Source: https://asianwaytravel.com/most-beautiful-vietnam-landscape/
Vietnam makes terrific destination to travel for nature: the landscapes are diverse, there's always something to do and see during the year and the auxiliary services are plenty in most popular landscapes. After all, Vietnam landscape are famous for inspiring artworks which speaks volumes about the beauties of this land. If you are a keen nature lover, and wish to have more followers on Instagram, put Vietnam on your bucket list, you won't be disappointed. To not letting any worthy spot out of your trip, this article of will show you the ultimate collection of most beautiful Vietnam landscape, including UNESCO natural heritage and lesser known attractions.
Vietnam Landscape Overview
---
From turquoise sea to limestone mountains to otherworldly grottoes, for a small country like Vietnam geographically, there are a great diversity in landscape and sceneries across the country. 
Blessed with a sexy S-shape and a 2015-mile coastline, Vietnam beaches are listed as the best on the world with variety of sea color and beach shapes. Vietnam beaches should be the number-one places to see when it comes to Vietnam landscape. Not only great for photos, the beaches in Vietnam offer exciting beachside activities, including snorkeling or diving.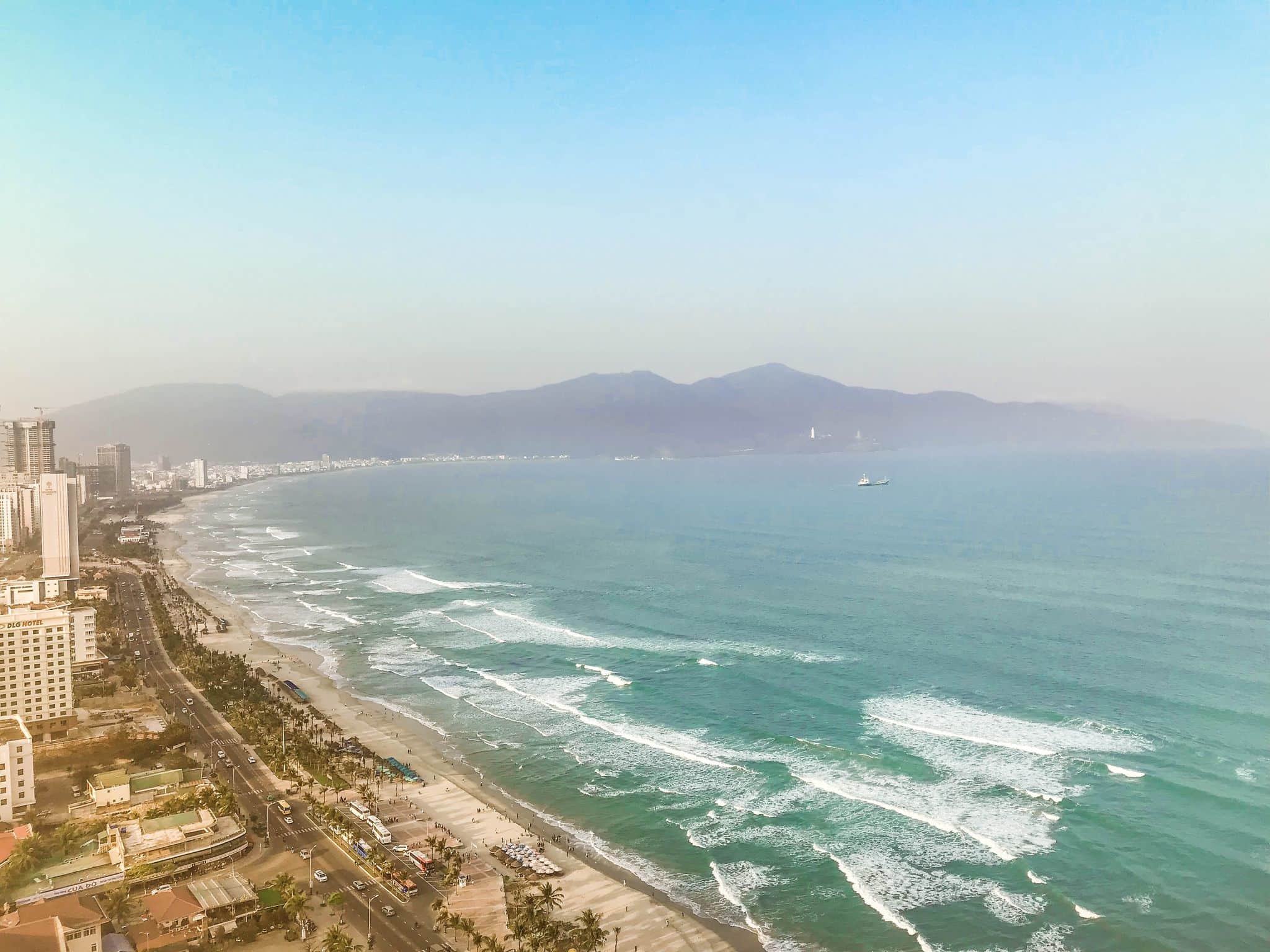 The highlight of Vietnam geography is karst structures, especially limestone mountains and karst caves which set Vietnam natural beauties apart from other nations in Southeast Asia. If beaches give the feeling of calmness, peaceful with its pastel horizontal skies then caves and mountains in Vietnam bring you right in a film set for a Hollywood fantasy movie. World famous movie makers found their inspiration here for such masterpieces in terms of visual effect like The Lover, Pan, Kong: Skull Island, Apocalypse Now and more.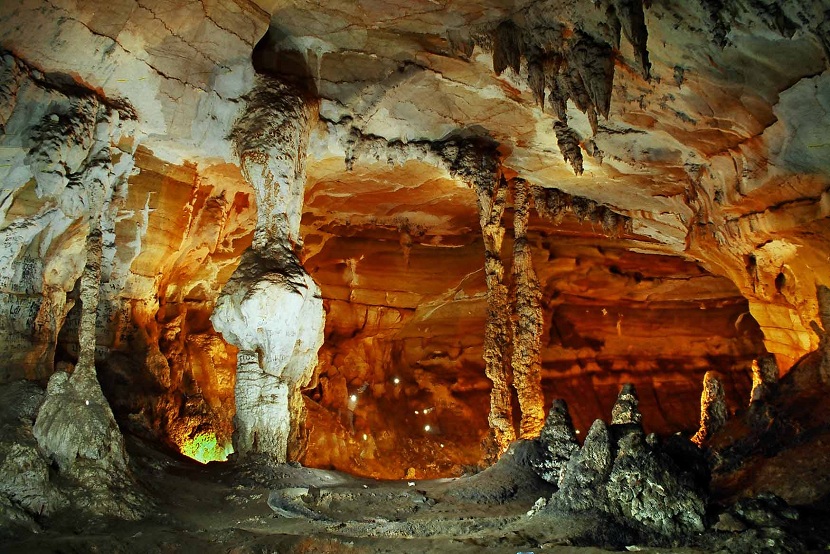 Talking about Vietnam beauties, missing Mekong River and Mekong Delta would be a serious mistake. Mekong Delta is the most powerful example of how nature nurture culture, resulting in such unique, beautiful way of life, not separating but rather depending on the nature and adding even more to the pulchritude of the land. 
 
Yet, the landscape of Vietnam can't be summarized in a few paragraphs, trying to fit words to describe the indescribable.  Let's us take you to a visual trip to Vietnam to see all the thrilling, exhilarating, shivering views of the country.
1. Phong Nha – Ke Bang: Kingdom of Karst 
---
There is no rival to beat Phong Nha – Ke Bang in the fight for the best place to see in Vietnam for natural lovers and adventurers. Belonged to Quang Binh Province, Phong Nha-Ke Bang National's karst structures were created by the five rivers crossing the region over millions of year, truly a work of mother nature.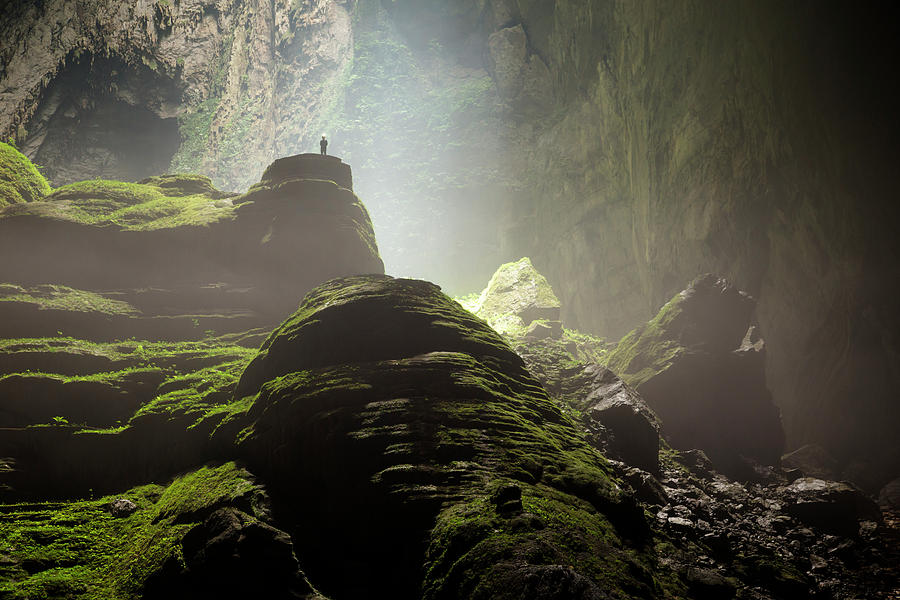 The national park was created to protect  300 caves and grottoes and the also the ecosystem of limestone forest spreading on a total area of more than 200,000 hectares. Karst caves and limestone mountains in Phong Nha - Ke Bang National Park are considered to be the most magnificent in Vietnam. 
Son Doong, the largest cave on Earth, the main draw of Phong Nha – Ke Bang National Park in recent years is the reason for Phong Nha-Ke Bang to rank first in this list. However, long before Son Doong was discovered, Phong Nha – Ke Bang was already known as a top destination in Vietnam with marvelous Paradise Cave and Phong Nha Cave. Blessed with a diverse ecosystem, Phong Nha – Ke Bang is also a good place for trekking and exploring.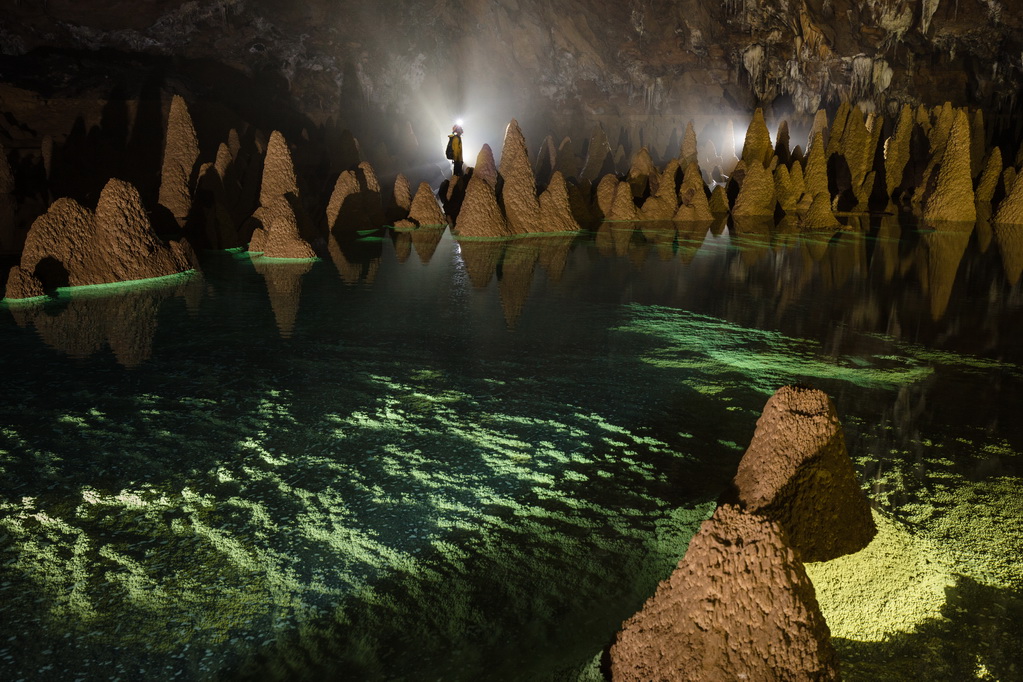 Other activities you can enjoy such as kayaking on Chay River, Mud-bathing in Dark Cave, Ziplining, fishing on Suoi Moc Stream. 
2. Ban Gioc Waterfall: Hidden Gem of The Mountain
---
Ban Gioc Waterfall is a lesser-known destination in North Vietnam compared to Sapa and Ha Long Bay, making a truly hidden gem for nature lovers and adventurers to discover. Located in northeastern of Vietnam, Cao Bang Province, on a height of 30 meters and a width of 300 meters, Ban Gioc is the widest waterfall in Vietnam, creating such impressive sight of nature.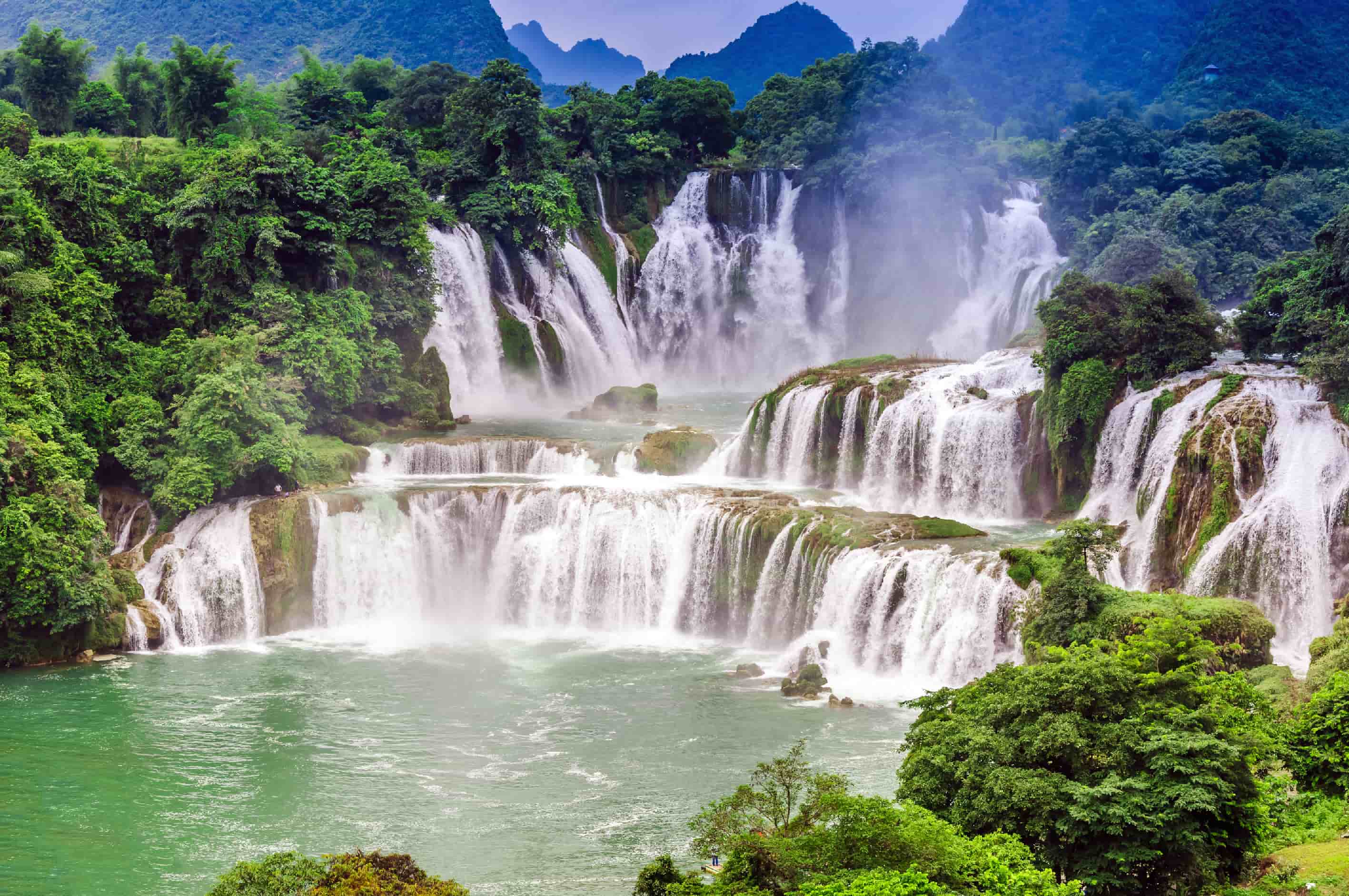 The roaring sounds of water hitting the rock can be heard from afar. The surrounding settings just make the scenery much more beautiful like a watercolor painting in real life. Ban Gioc waterfall transforms according to seasons – in spring, flame-red blossoms dotting the in the backdrop, in autumn, the waterfall turning into golden color under the sunset.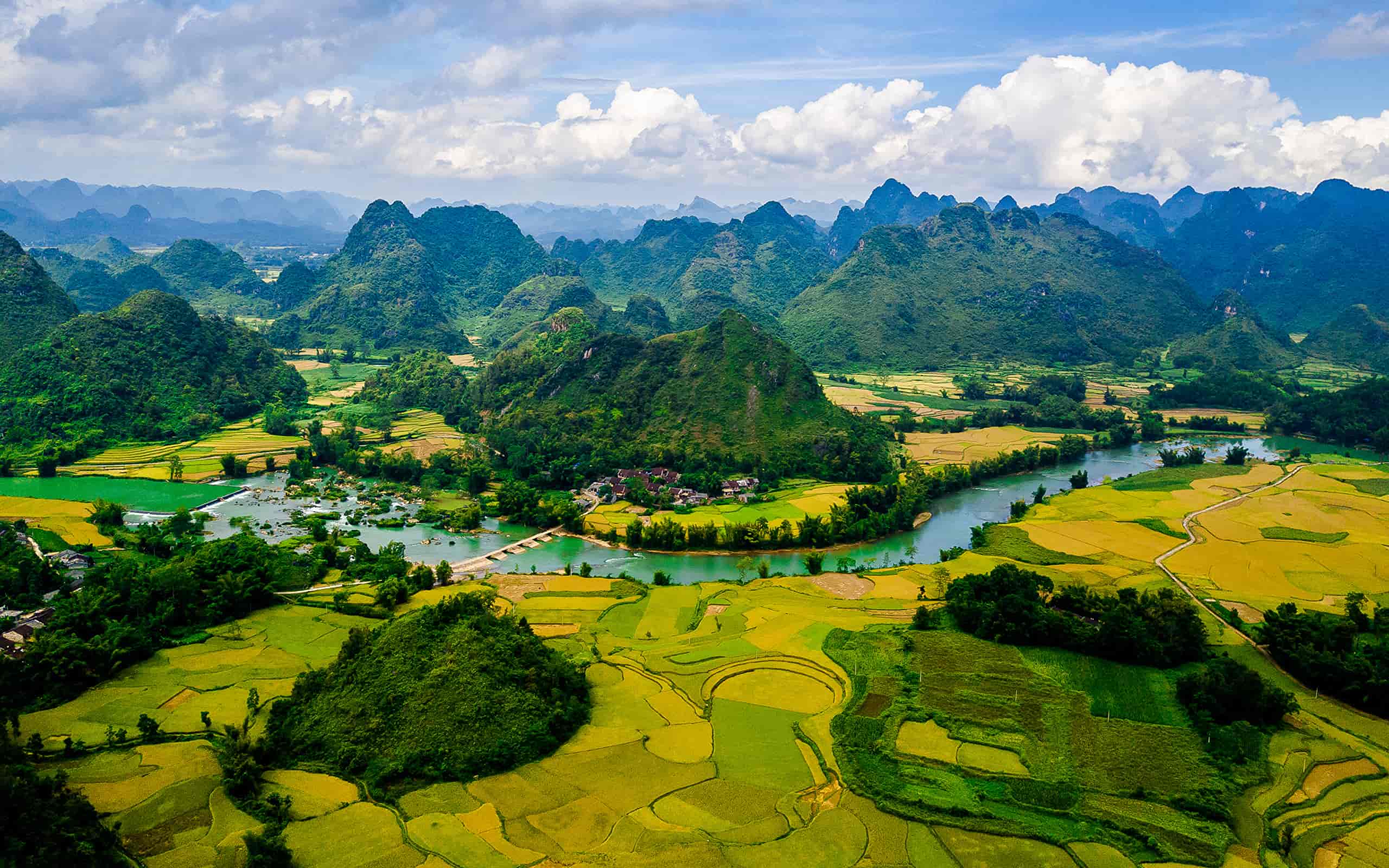 Admission: 45,000VND/person (you might have to show your passport since the waterfall is located at Vietnam – China border)
*Things to do in Ban Gioc Waterfall and Cao Bang:
- Take in the magnificent views of the waterfall
- Get on a raft to get closer to the fall (cost 50,000VND/person)
- Take a detour to Nguom Ngao Cave (cost 40,000VND/person)
- Admire the water wheel on Quay Son river – a representative of local farming techniques
- Walk around Cao Bang city to check out the food scene
3. Ha Long Bay: Land of Descending Dragon
---
 There is no better place to admire nature than a world natural heritage. Ha Long Bay would be a much easier destination than Son Doong (you have to go on a physical training and briefing before the trip). To visit Halong Bay, you can just book a luxury cruise tour and then just let you get lost in in the natural wonder.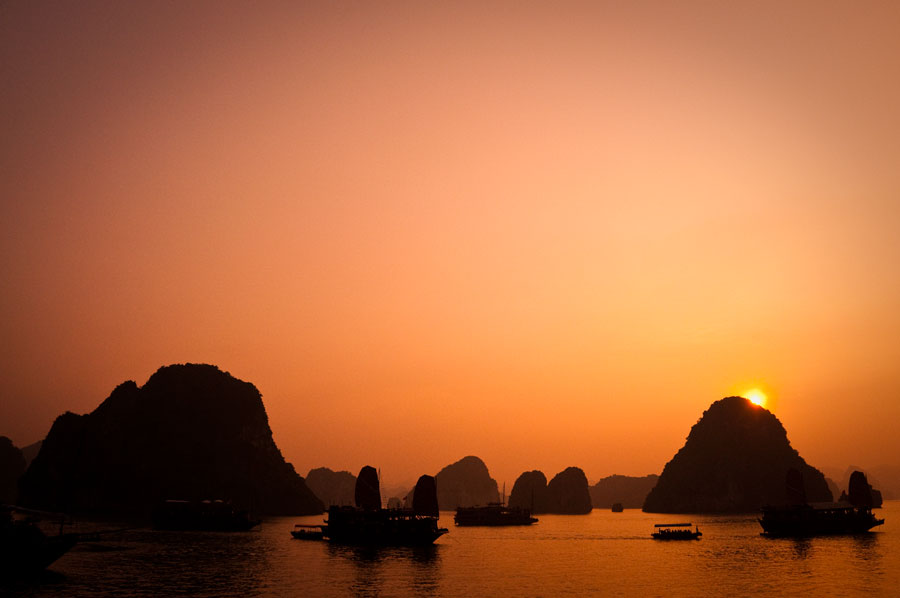 As the name describes, Halong is a land where dragon descended into. This is a rather poetic explanation of thousands of limestone islands and islets scattering on an area of 434 sqkm, reflecting on the greenish bay water. Halong Bay's geographical landscape was the result of complex geological processes taking over 500 million years. Halong is home to beautiful, unique karst caves such as Dau Go Cave, Sung Sot Cave and Thien Cung Cave.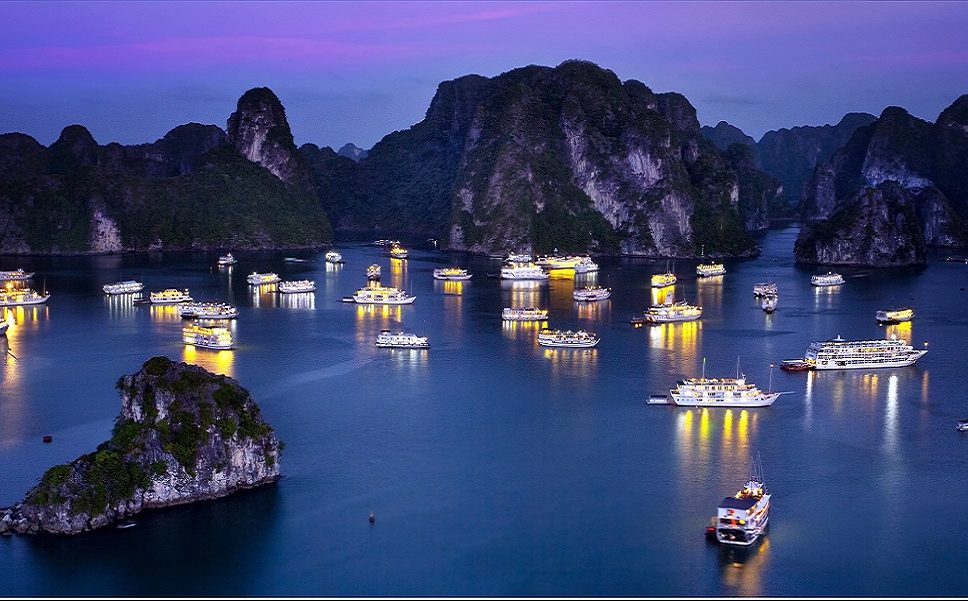 Bai Tu Long Bay, Lan Ha Bay are the two bays that are also worth visiting for its beauties and rustic life of the floating villages.
*Things to know about Ha Long Bay's admission:
- You should avoid visiting Ha Long on holidays, the prices are higher than normal time
- You are able to visit only the sites listed on the ticket
- The ticket is usable during the day only
- Children under 6 ages old are free of charges
+ Entrance fee: 120,000VND/person
Paying this fee, you can't stop to visit any of the sites.
+ Each site costs 30,000VND/person – 50,000VND/person for a visit (caves, titov beach…)
+ Overnight fee: 1 night – 200,000VND, 2 nights – 350,000VND, 3 nights – 400,000VND
---
 If you're not interested in big caves or bay of limestone islets, get to Nha Trang to ride the waves and enjoy the seafood. Nha Trang offers the best beach break in the country with a wide range of beachside activities and entertainments. Not just the beaches, Nha Trang Bay has some of the most wonderful islands where you can enjoy diving or snorkeling. Hon Mun Marine Protected Area is the paradise of hundreds of coral species. To Nha Trang, you're up to a pleasant adventure.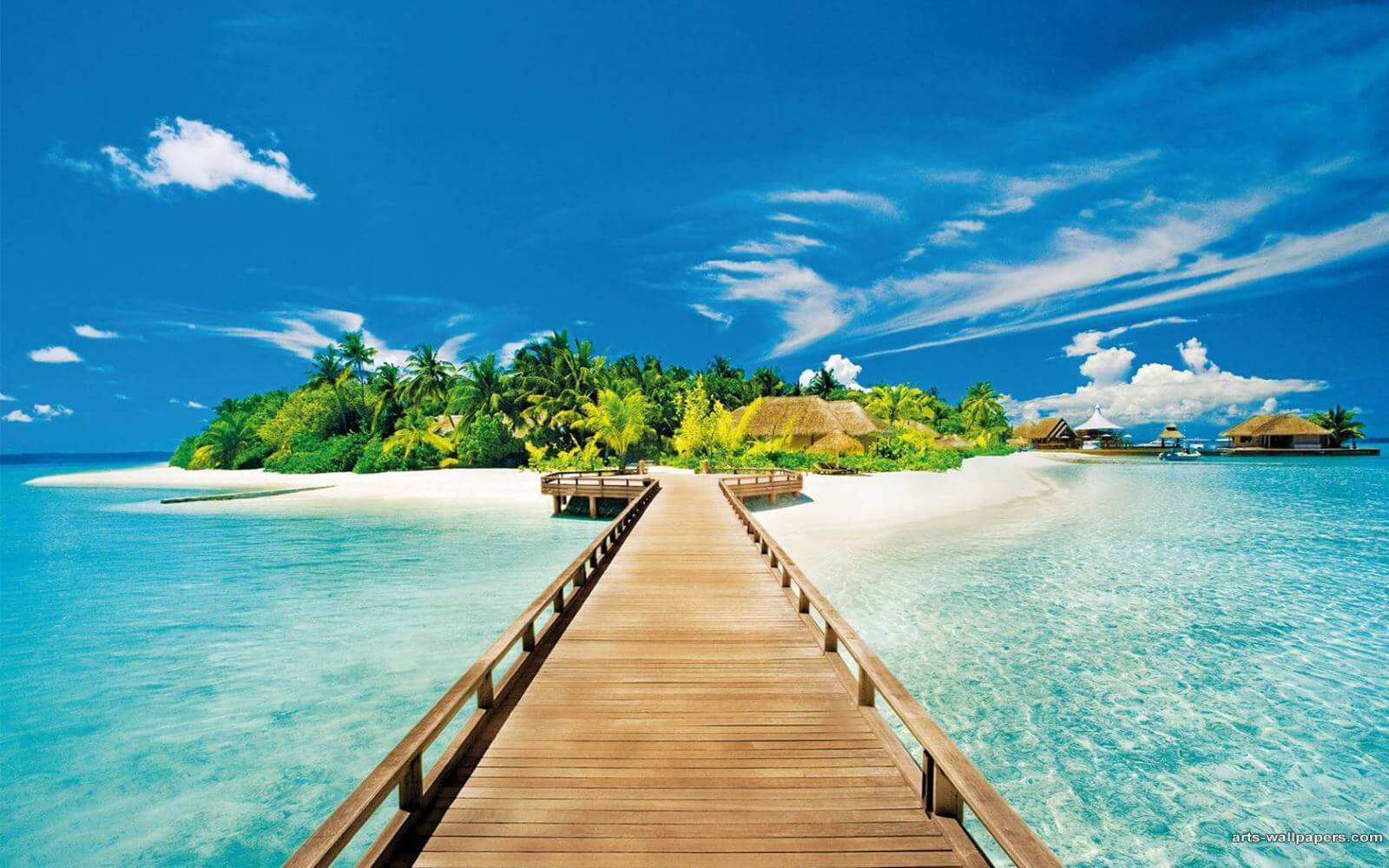 * Nha Trang admission fees:
- Vinpearl Land: 800,000VND/adult, 700,000VND/kid under 1,4m
- Nha trang aquarium institute: 30,000VND/person
- Lao island: 120,000VND/adult, 60,000VND/kid under 1,3m
- Po Nagar Tower: 21,000VND/person
- Hon Mun: 22,000VND, swimming – 66,000VND
 5. Ha Giang: The Story of Rocks
---
 Ha Giang is nothing like any of the the destinations above. Come to Ha Giang, the first thing you see is a challenge lying in the sight of mountain after mountain. This is also the story of the people living in Ha Giang, a land that was so remote and underdeveloped until its first provincial road was made, opening a new era of the Ha Giang. As a member of UNESCO geopark, Dong Van plateau covers a vast area with boulder rocks and limestone mountains which are called 'rock gardens'.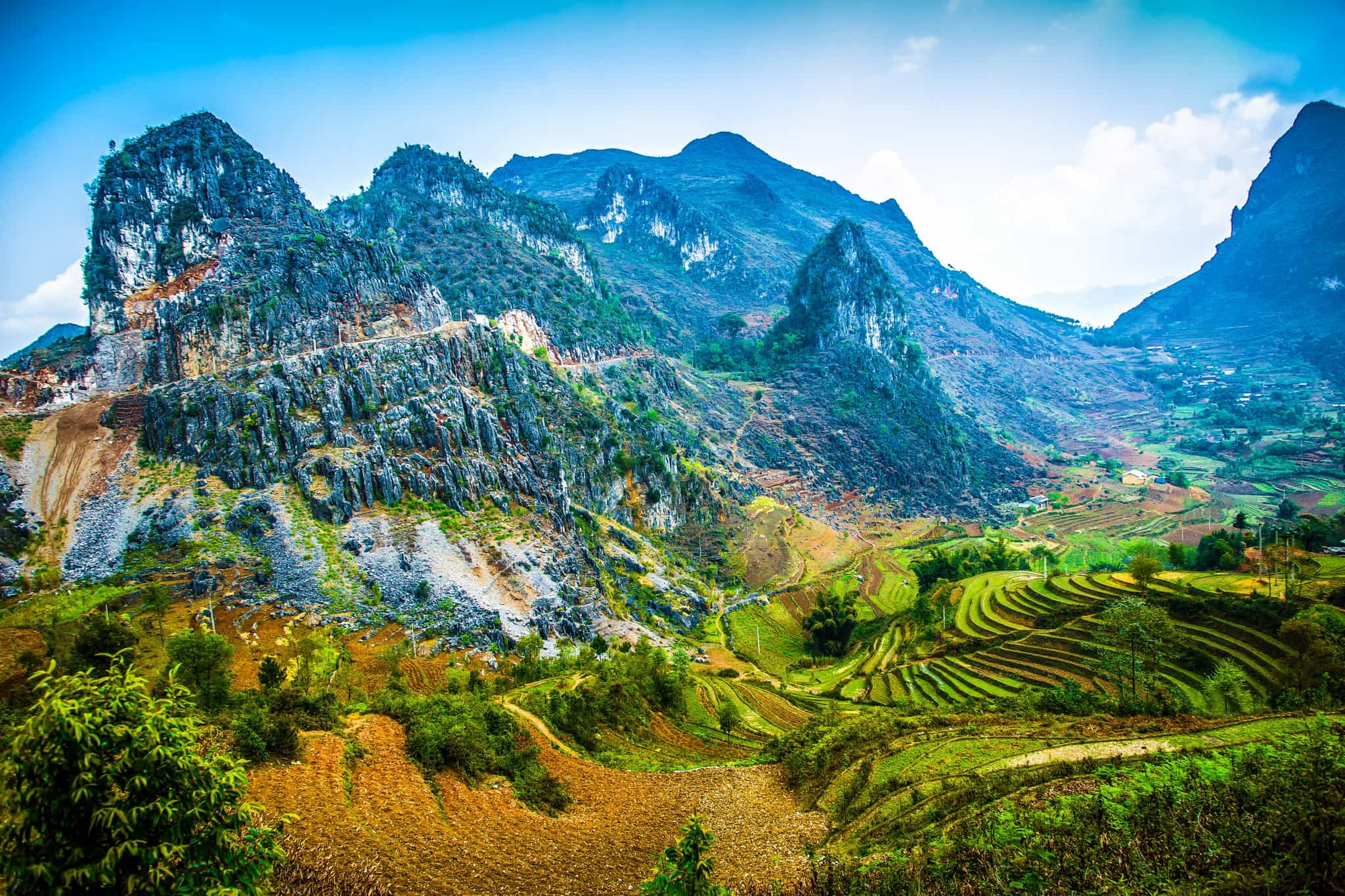 Tu San Chasm – the deepest canyon in the plateau offers breathtaking scenery on Ma Pi Leng Pass. Come to Ha Giang, it's also about the indigenous culture of the ethnic group like H'mong. Local fair markets in Ha Giang such as Dong Van Fair Market, Meo Vac Market offer an insight into the local culture of the ethnic people here. Ha Giang is one-of-the kind adventure you're seeking for.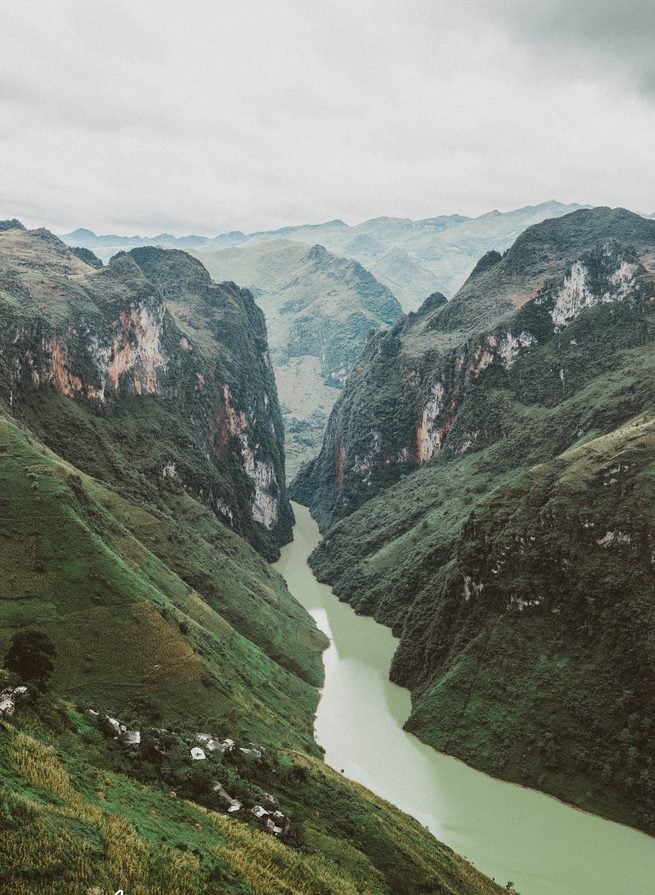 Hoang Su Phi's terraced rice fields in Ha Giang are second to none other places in Vietnam. Lying just off Tay Con Linh mountain, the rice fields here are often embraced by the white clouds, becoming even more gorgeous in harvest season.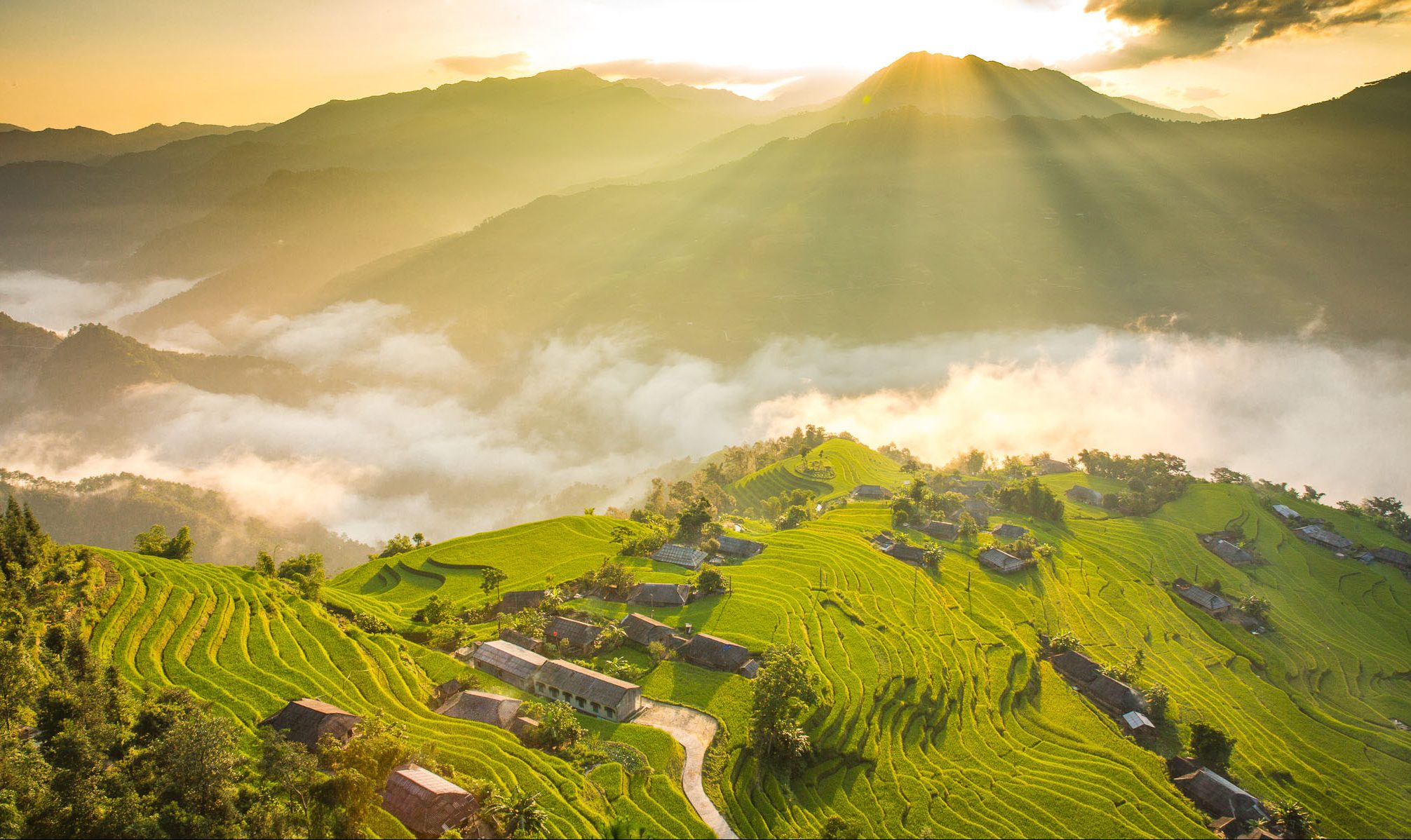 * Things to do in Ha Giang:
- Conquer Ha Giang loop – the Happiness Road will take you to the four districts of Ha Giang – Yen Minh, Quan Ba, Dong Van and Meo Vac
- Visit Mansion of Vuong Family - a masterpiece of H'mong architecture you can't find anywhere else.
- Admire the nature beauties at Ma Pi Leng pass, including Tu San Chasm and Nho Que River.
- Nightlife in Dong Van Old Town, trying local delicacies.
- Soak up the cultural atmosphere in Dong Van fair market on Sunday mornings.
- Visit House of Pao in Lung Cam Valley - the house where the famous movie 'Pao's Story' was shot.
 6. Mui Ne: The Red Planet
---
 Mui Ne is a travel hub for kite-surfers because of the strong winds blowing almost all year round. Mui Ne beaches are incredible blue with very good conditions for beachside activities like swimming, surfing, diving, and especially kite-surfing.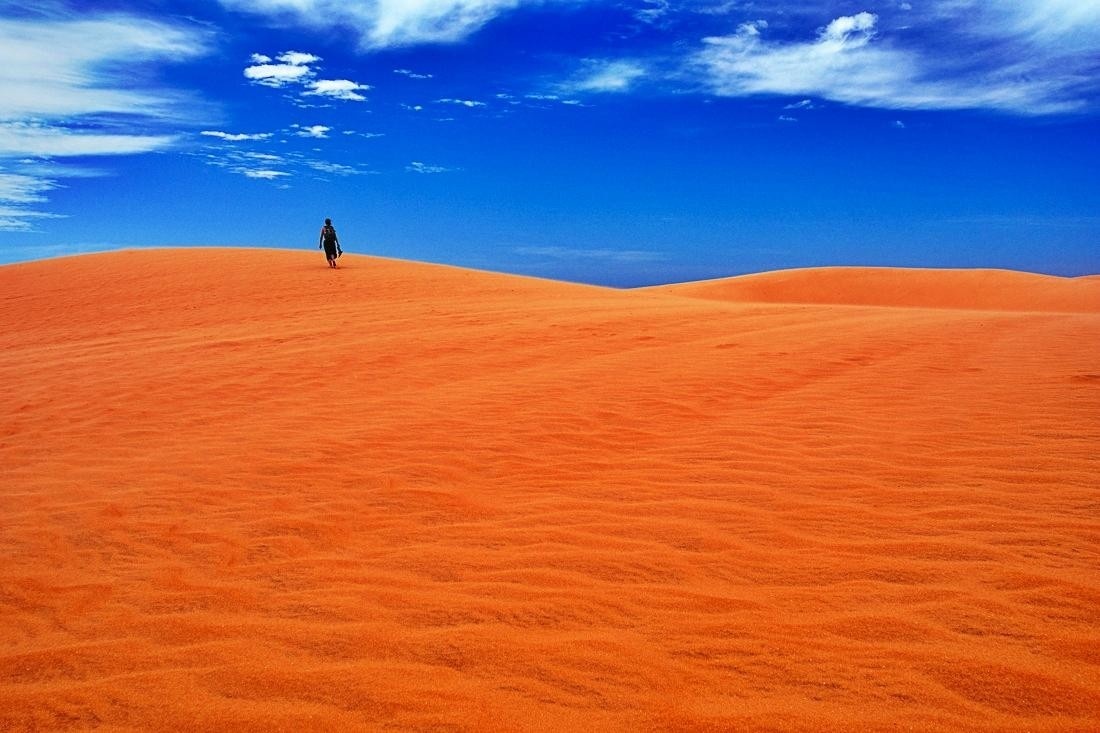 Not only beaches, Mui Ne has a popularity for its red and white sand dunes. Together with the sun and winds at Mui Ne, these sand dunes make perfect places for taking photos. But if you are looking for something really different, come to Fairy Stream - a place that has physical features like those of an alien planet.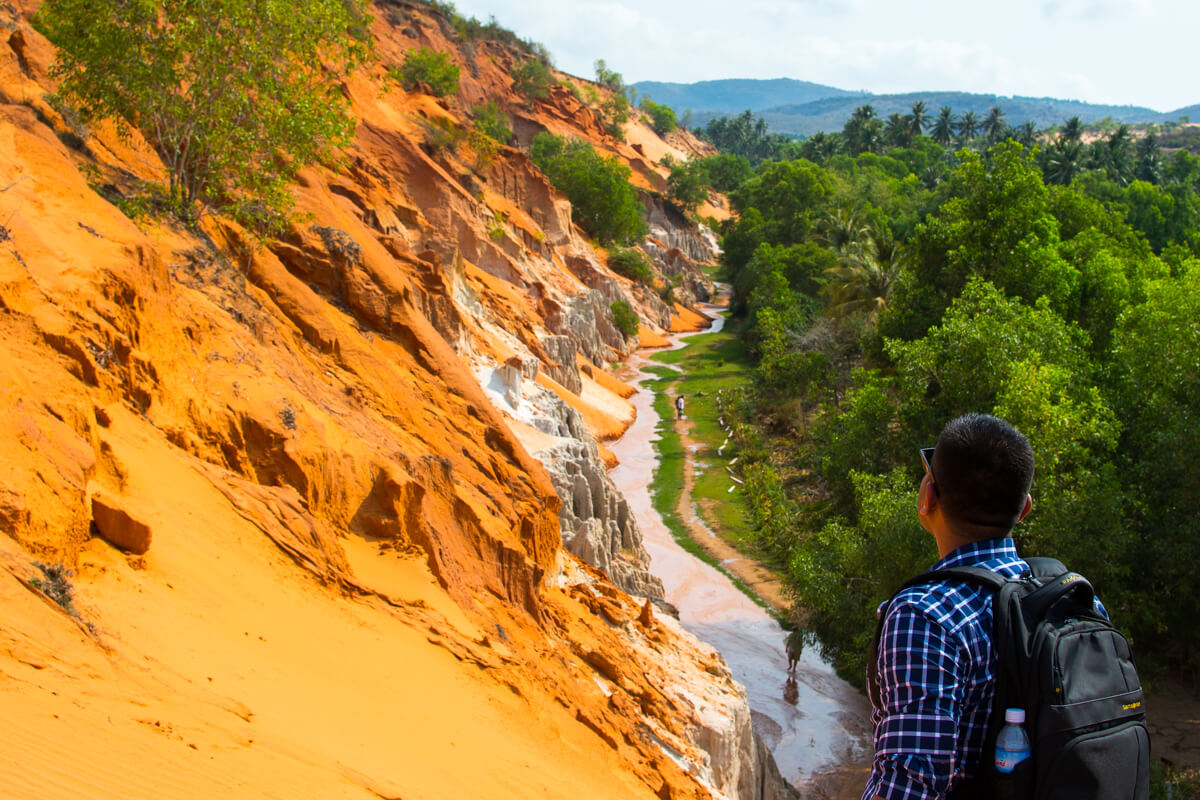 Mui Ne also attracts visitors with its stunning sand dunes and luxury resorts and hotels, restaurants. You can get to Phan Thiet from Ho Chi Minh City easily by bus or train.
* Where to kite-surfing in Mui Ne:
- Mui Ne beach: light wind, when wind speed increase, short breaks happen. Very crowded during peak season
- Hom Rom (The Cemetery & Malibu): not for beginners, large swells, wave breaks are too far off beach
- Suoi Nuoc Beach: good sweel, straight on-shore wind
- Turtle island: clean waves, flat-water 
7. Ninh Binh: Dance of Rivers and Mountains
---
 It's rare for a destination to be a world heritage for both natural and cultural values and Ninh Binh, located just 90 kilometers south of Hanoi, is one.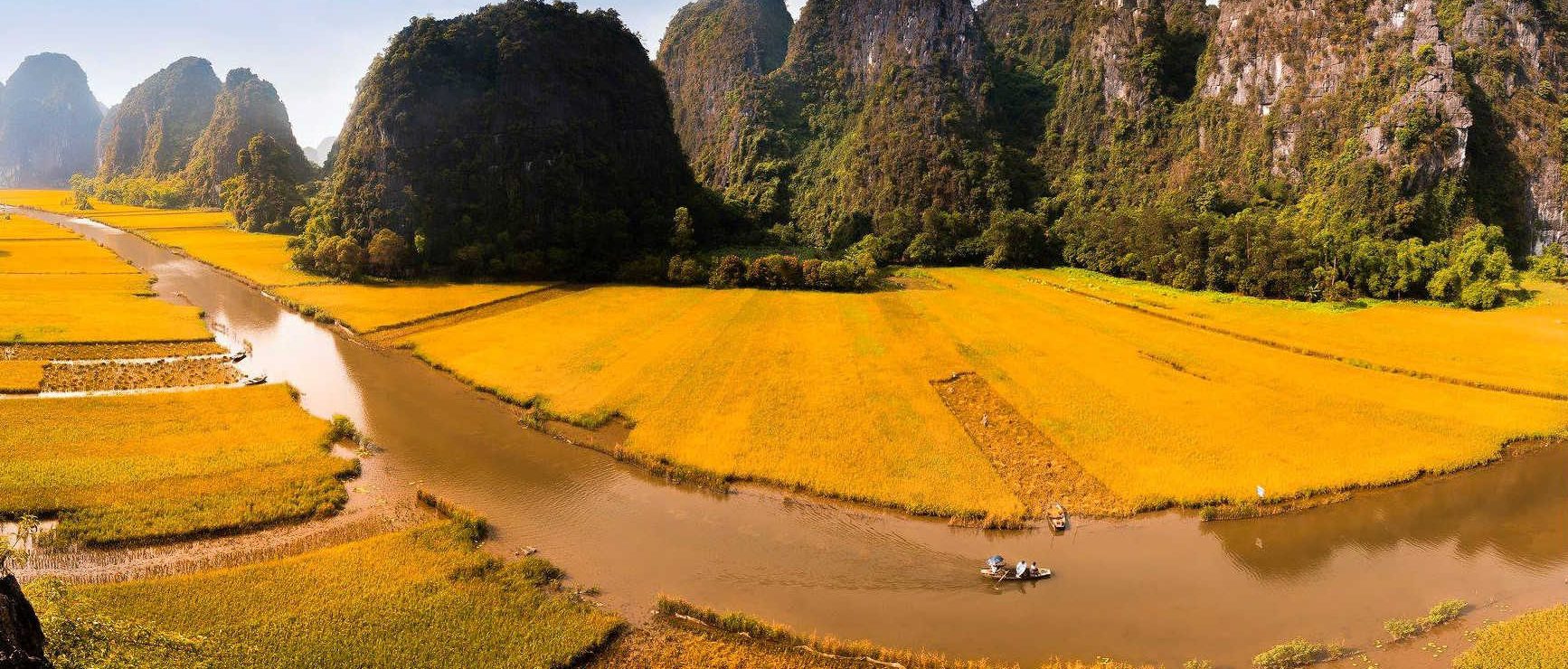 You'll find in Ninh Binh a harmonious complex of natural spectacular embracing the sacred and mysterious temples and pagodas. Hike up the Lying Dragon Mount at Mua cave (Hang Mua) to take in the wonderful lookout point. Hire a boat to get in the middle of water and cliffs in Van Long Nature Reserve. Come to Tam Coc in harvest season for the golden floating rice fields on Ngo Dong riversides. And Trang An, for the views of 'Ha Long on land' as it's called.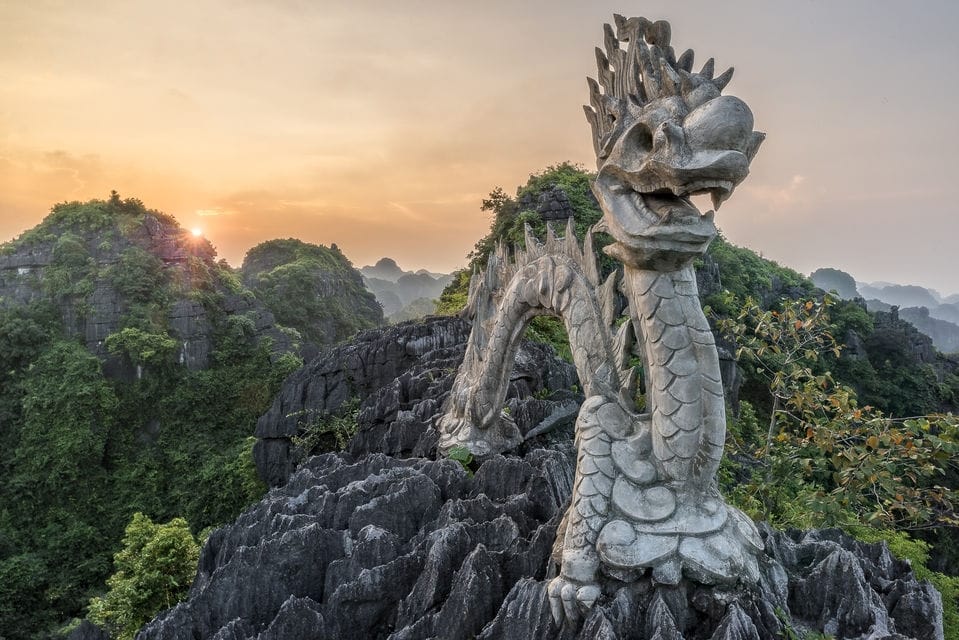 >>> 12+ Things to do in Ninh Binh you might know about (w/ Itinerary)
*Ninh Binh Attractions' Admission fee:
- Trang An: 200,000VND/adult, 100,000VND/kid under 1m
- Guided tour: 300,000VND/tour
- Bai Dinh Pagoda: 30,000VND/person – Stupa: 50,000VND/person
- Tam Coc: 150,000VND/boat (Vietnamese boat – 4 people| Foreign Tourists – 2 people)
- Hang Mua: 100,000VND/person
- Van Long: Entrance – 20,000VND/person, boat – 60,000VND/boat/2 people
 8. Bac Son Valley: Golden Valley
---
 You might not have heard about Bac Son Valley but this spot is absolutely lovely place to admire the beauty of nature and take pictures that worth an Instagram post. The scenery of Bac Son is just singular and so pleasing to the eyes – the rice fields nested so neatly between two ranges of cone-shaped cliffs dotted with the Tay ethnic villages and adorned even more by a river crossing through. Come to Bac Son during harvest season, you'll have the chance to be moved by the magic of nature, especially when it's sunset or sunrise.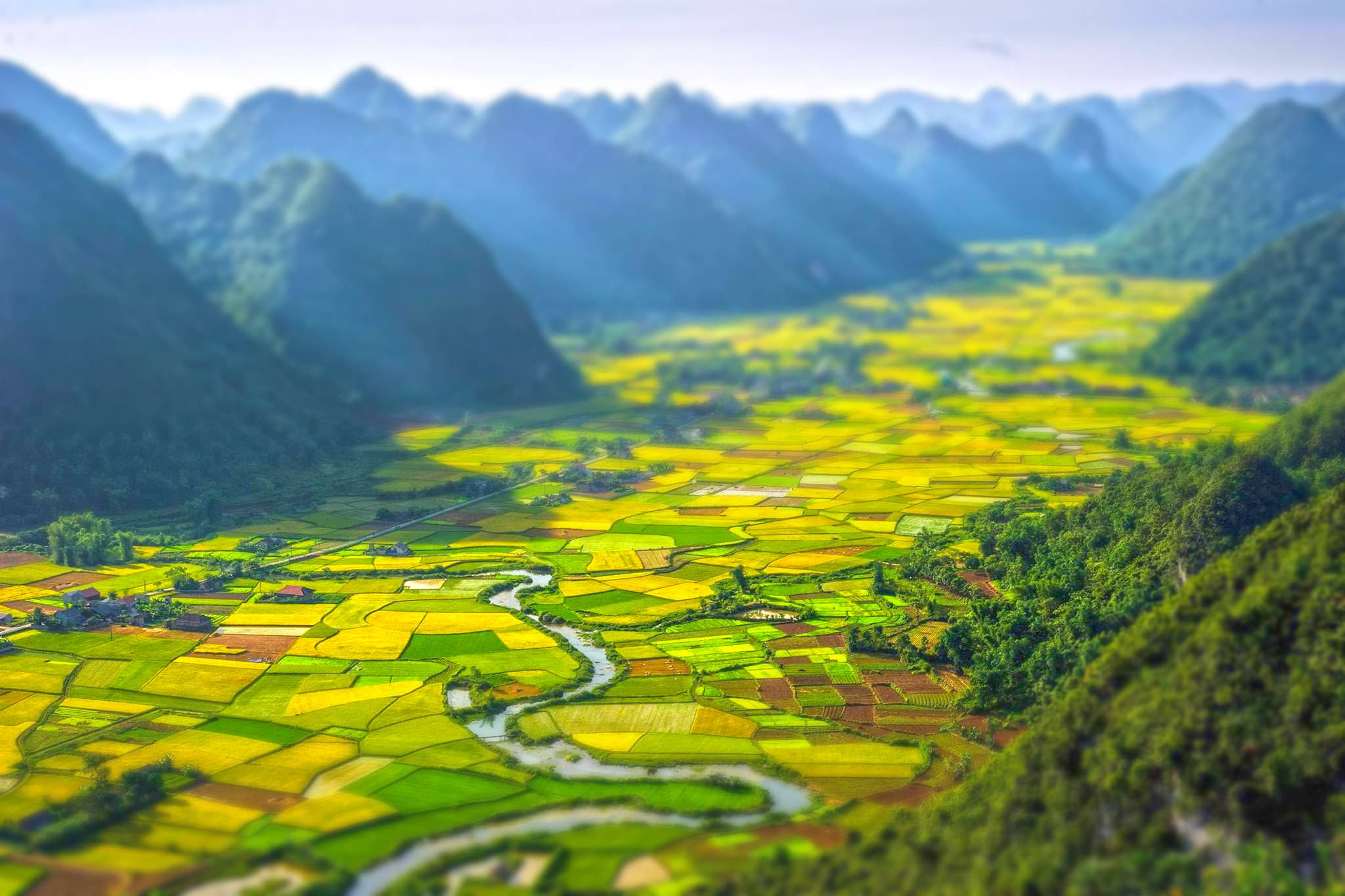 * Things to do in Bac Son Valley:
- Hike up the mountain nearby to reach the lookout point. Remember to hike before the sunset.
- Homestay at a Tay traditional house and enjoy the local culture.
- Trek around and discover the culture of Tay people and their daily life and admire the valley in different times of day.
- Enjoy local delicacies of Tay people
9. Moc Chau - Pha Luong Mountain: Among the Clouds
---
 Pha Luong is not a popular stop for a regular trip to Moc Chau and its beauty, as well, nothing regular. But the trip to Pha Luong gives more significance into reaching the top than the top itself. As it appears in the famous poem 'Tay Tien' (West March) written by soldier-poet Quang Dung, the journey of from the bottom to the top of Pha Luong Mount is the journey to overcome nature's hardships and triumph human's determination, will and endurance.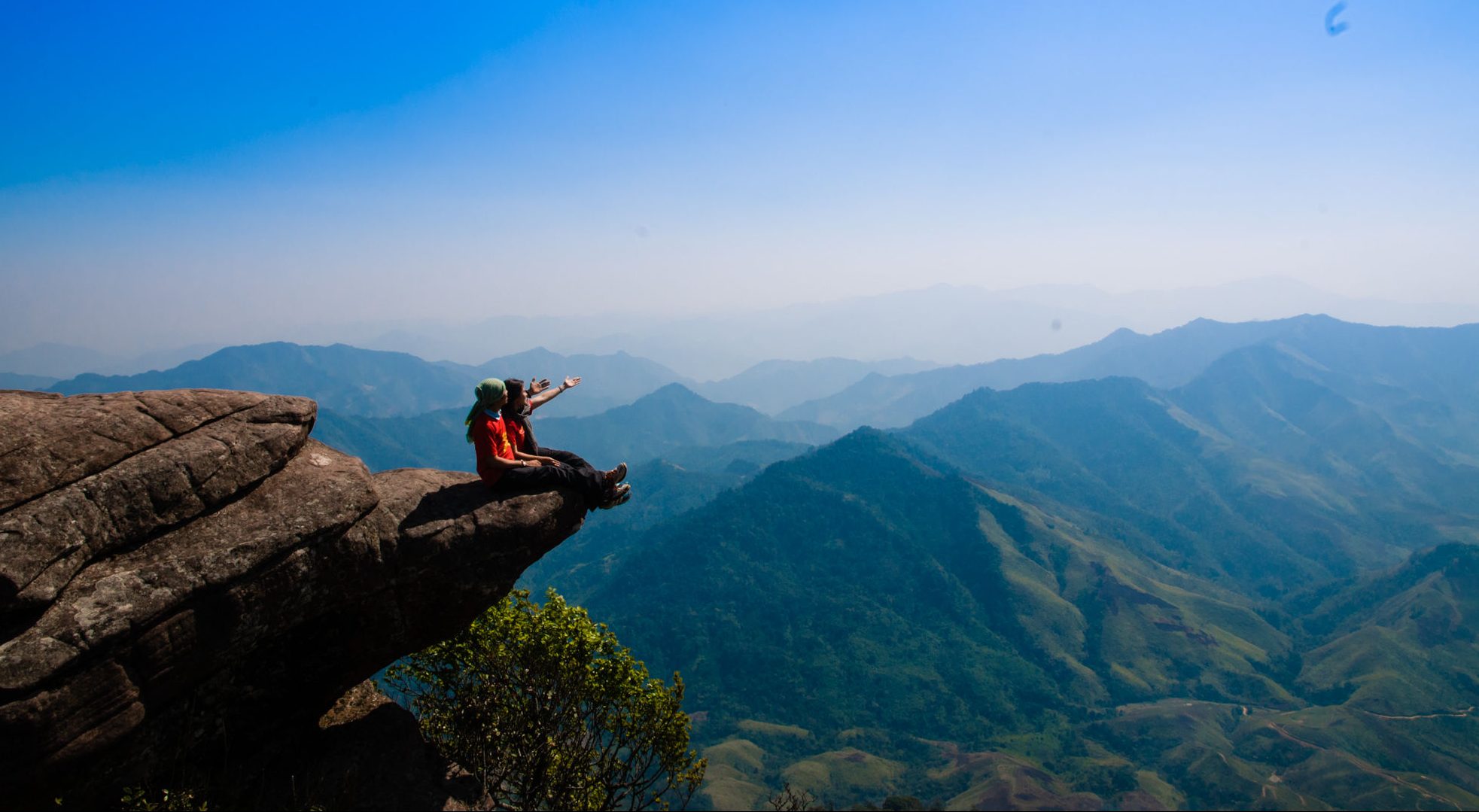 Once you reach the top, you'll be rewarded with an impeccable sight of nature of two countries: Laos and Vietnam. On the height of 2000m, the board peak of Pha Luong intrudes out into the air, offering a thrilling experience of standing and facing the dizzying views of clouds hugging mountains below. It will be a beautiful picture to show off to your peers.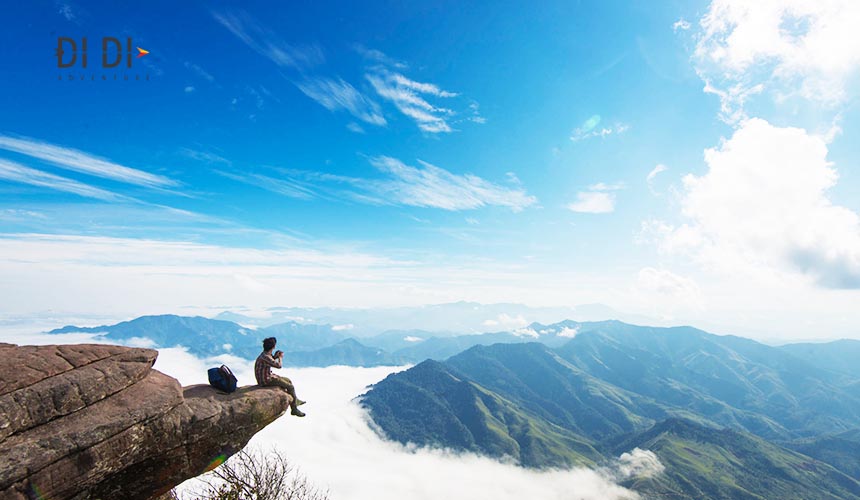 The trip to Pha Luong top takes you about 3 hours of trekking diligently. For foreigners, you'll have to attain a permission from local authority, due to the mountain's location on close to Laos-Vietnam border. No one will be allowed to stay overnight on top, local or foreign trekkers alike.
*Quick tip: the best time to visit Pha Luong is dry season in north Vietnam (from December - April). 
10. Hang Rai - Ninh Thuan: Cave of Otters
---
Hang Rai or Cave of Otters in Ninh Thuan is a place only domestic travelers and photographers visit, totally untouched by mass tourism. Hang Rai has a breath-taking and otherworldly appearance that can't be simply described by words.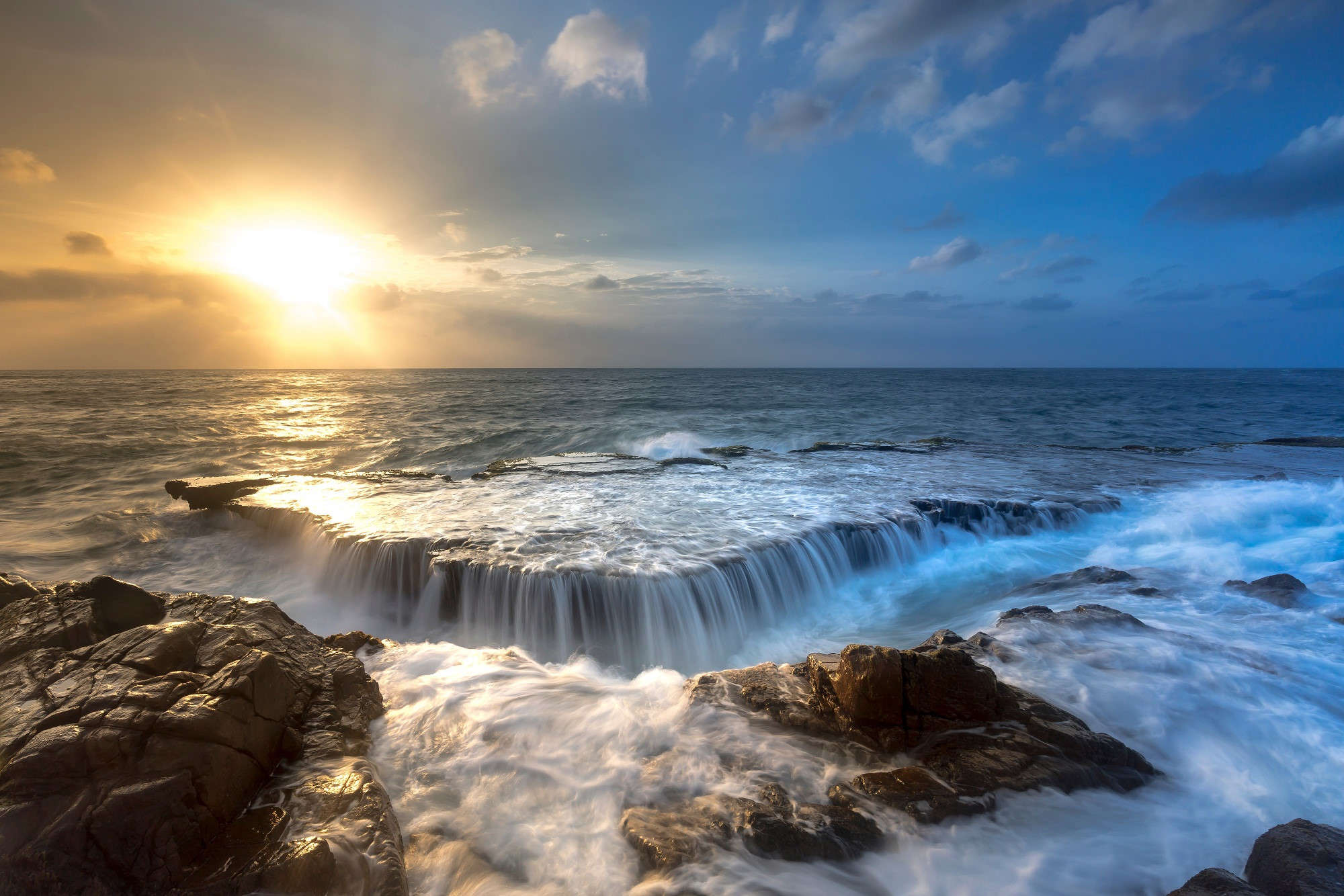 Cave of Otters actually is a complex of reef, rocks, beach and cave. The most special feature of this destination is a plate-like rock formation separating from the beach. When the tide rises, the water fill the rock-plate and create a small water fall right on sea. The rock setting on the beach are covered in green moss, contrasting nicely with the color of the sea and the sky.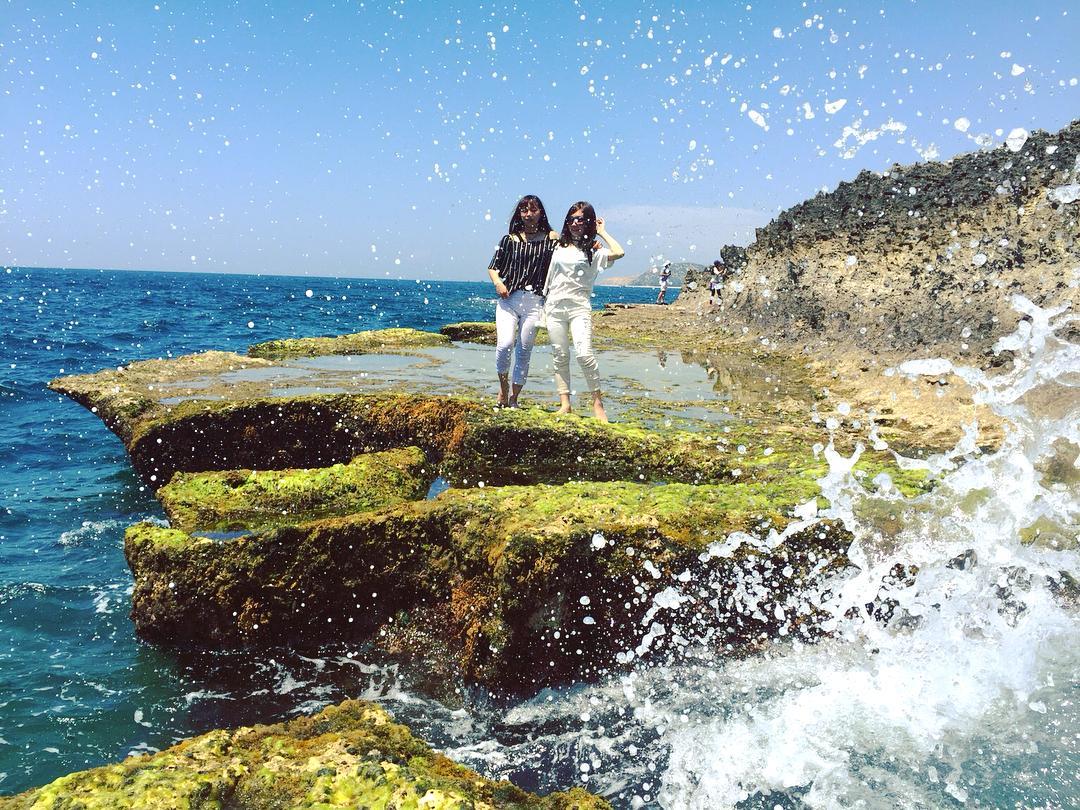 Come to Hang Rai in sunset to appreciate the magnificence of the nature and don't forget to bringing your best camera. 
From Phan Rang, drive east then up north for about 40 kilometers on the road to Chua Mountain National Park Center then turn left for about 500m, you'll reach Hang Rai. If you have more time, why not spend trekking to Chua Mount - one of the most primitive national parks in Vietnam. 
 11. Ta Nang – Phan Dung Trail: Deadly Beauty
---
 Like Son Doong, Ta Nang – Phan Dung trekking trail is no joke in terms of trekking techniques and physical fitness. With the total length of 50 kilometers spreading on three provinces, bad road conditions and a collection of mysterious events that happened, Ta Nang – Phan Dung can challenge any adventurer, physically and mentally. Yet, hailed as the most beautiful trekking trail in Vietnam featuring several types of landscapes, Ta Nang – Phan Dung is worth every second of your trip.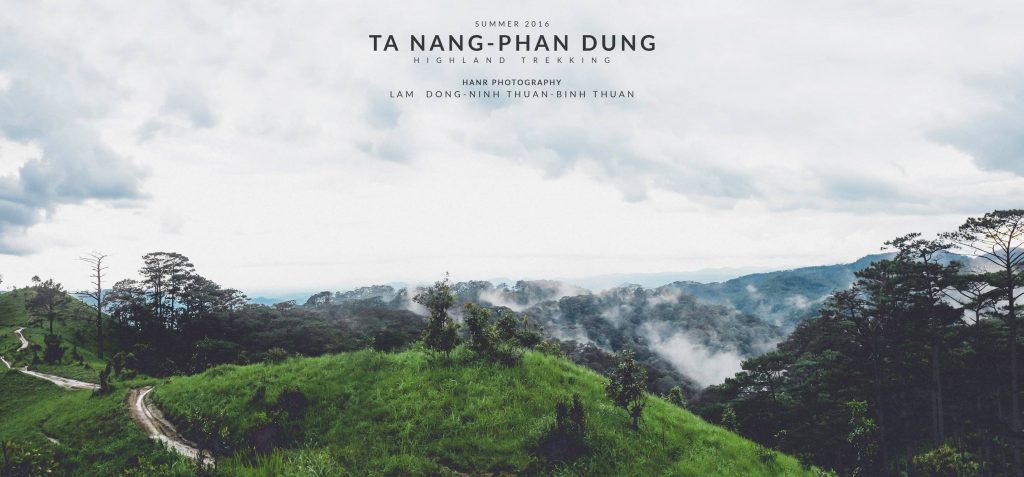 It shouldn't go unnoticed that there are a few deadly incidents happened to local adventures throughout the years. This is the most obvious indicator of how dangerous Ta Nang - Phan Dung Trail can be to trekkers who are unprepared and inexperienced.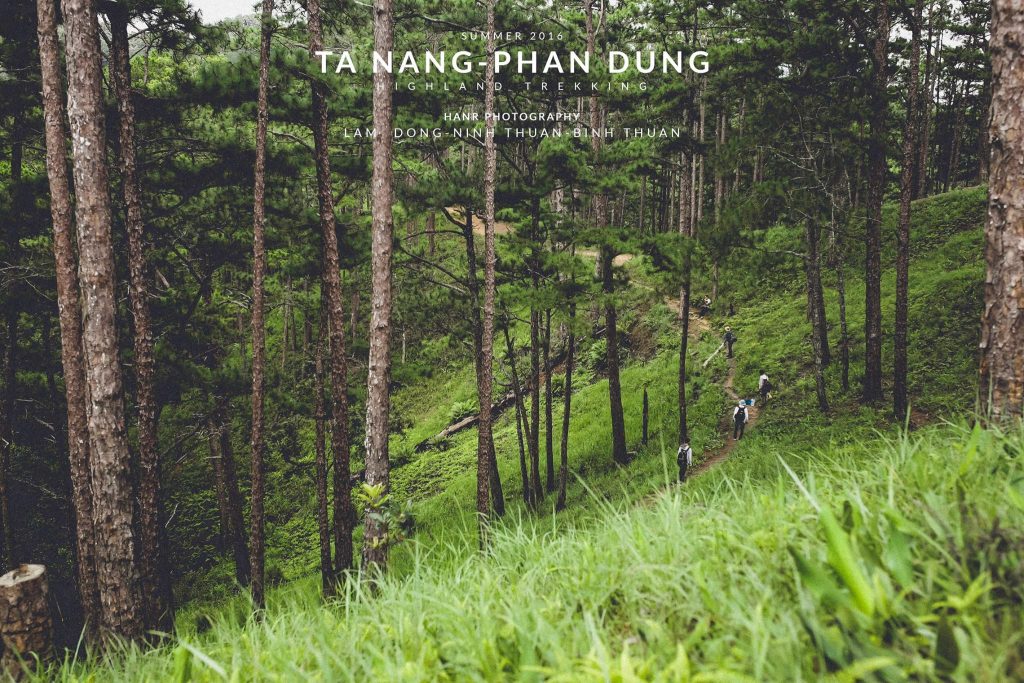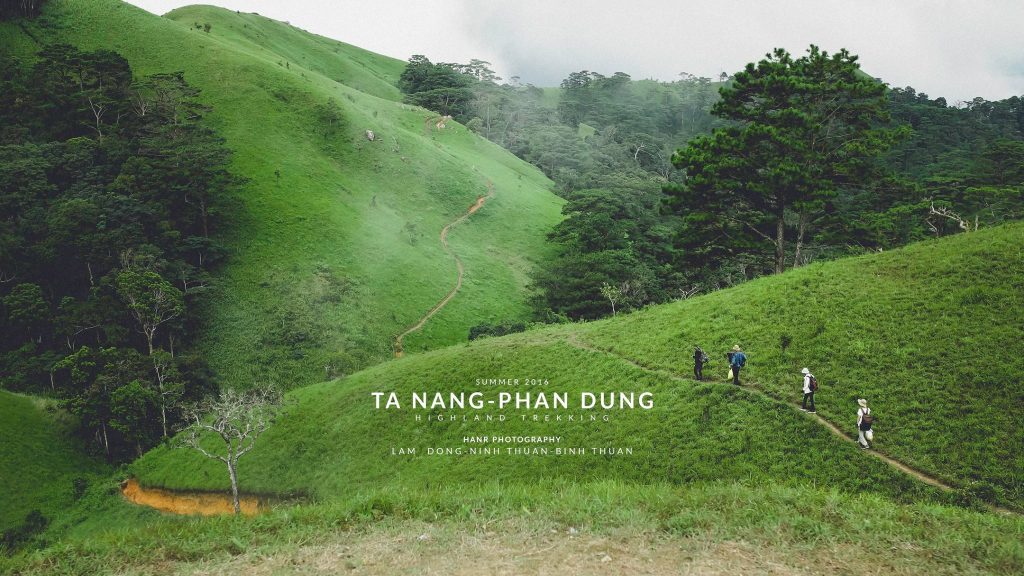 *What to prepare for your (imagine) trekking trip to Ta Nang - Phan Dung:
- Only consider try trekking this trail when you think you are fit and experienced enough. And only take on the challenge with help from a local guide.
- A very good pair of trekking shoes (which shouldn't be slippery), water-proofed backpack, a water bottle.
- Light, comfortable clothing. Long sleeved coats and pants to prevent insect bites. Rainy coat for unexpected weather.
- Necessary medicines. 
- Snack to boost up your energy throughout the trip.
- Go with group and follow strictly the path and under no circumstance you should separate yourself from your companions. 
 When is the best time to enjoy Vietnam landscape
---
Two conditions that should be met in order to have a nice trip to the most beautiful Vietnam landscape: the weather must support photo taking and transportation should be safe. 
Due to many geographic characteristics, many of the destinations above have to be closed during wet season because of the flood or for preservation like Phong Nha - Ke Bang Cave, or for dangerous road condition like Ha Giang or Ta Nang - Phan Dung. 
Therefore, obviously, the best time to visit Vietnam best landscapes is the dry season which falls in different months in different season in Vietnam:
* North Vietnam (Ninh Binh, Ban Gioc, Ha Giang, Moc Chau, Bac Son): December - April which is also the winter time
- Halong: March - July
* Central Vietnam (Phong Nha Ke Bang, Nha Trang, Mui Ne, Ninh Thuan, Ta Nang - Phan Dung): May - October which is the dry season.
We've suggested the top 11 places to see for nature lovers featuring the most dramatic, peaceful and idyllic scenery in Vietnam. Did this article help you find more ideas for your next trip to Vietnam? Let's Asianway Travel make you dream trip come true and bring you the most exhilarating feelings with Vietnam's nature.